Technical Parameters: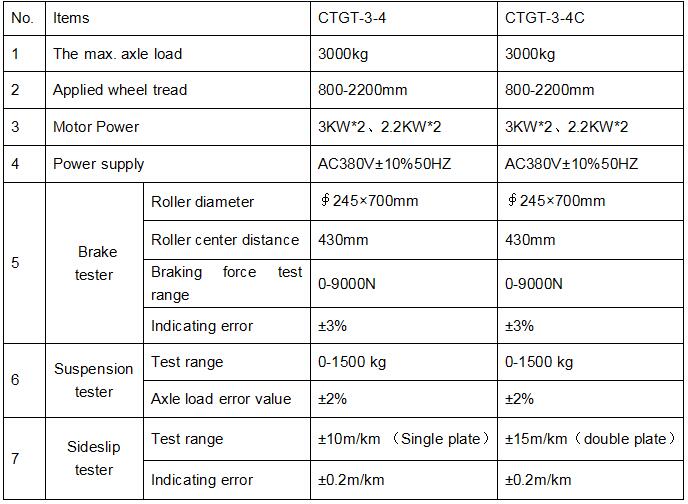 Product features:
1, Using the patented technology to produce the sanding roller of the brake tester can guarantee 200000 times of testing life, the friction coefficient of the roller surface is more than 0.85, and the testing speed is up to 2.5km/h
2, High efficiency self-locking variable speed motor (3.0kw / 380V) is adopted for the roller brake tester.
3, Sideslip tester with tire lateral elastic force release device, which check the car front wheel side slip in effectively improve the precision and accuracy. Automobile sideslip tester can be upgraded from single plate sideslip tester to double plate sideslip tester
4, Largest through- axial load is 4000 kg; Industrial control computer controlled
5, The test line can be equipped with headlight tester, gas analyzer, Opacimeter, sound level meter, monitoring camera, networking interface, etc., and all test results are displayed in one report
6, Independent intellectual property software, the detection system can choose manual single station, semi-automatic, full-automatic operation detection
7, It can automatically print and judge the test results, and can automatically and quickly query the test data and records according to time, license plate, vehicle model, etc.
8, The system is built-in with the latest national standards, users can change the value of detection and judgment standards, and can customize a variety of software requirements, with flexible function configuration. It is suitable for education use test line and R & D institutions.
9, The system signal data acquisition is very fast. When the driver steps on the brake, the system software interface can draw the brake force process curve at the same time
10, The suspension tester adopts imported damping coupling, which has no vibration during operation and can work for a long time without fault. While the motor of the suspension tester works, the system software interface can draw the suspension damping vibration curve at the same time.